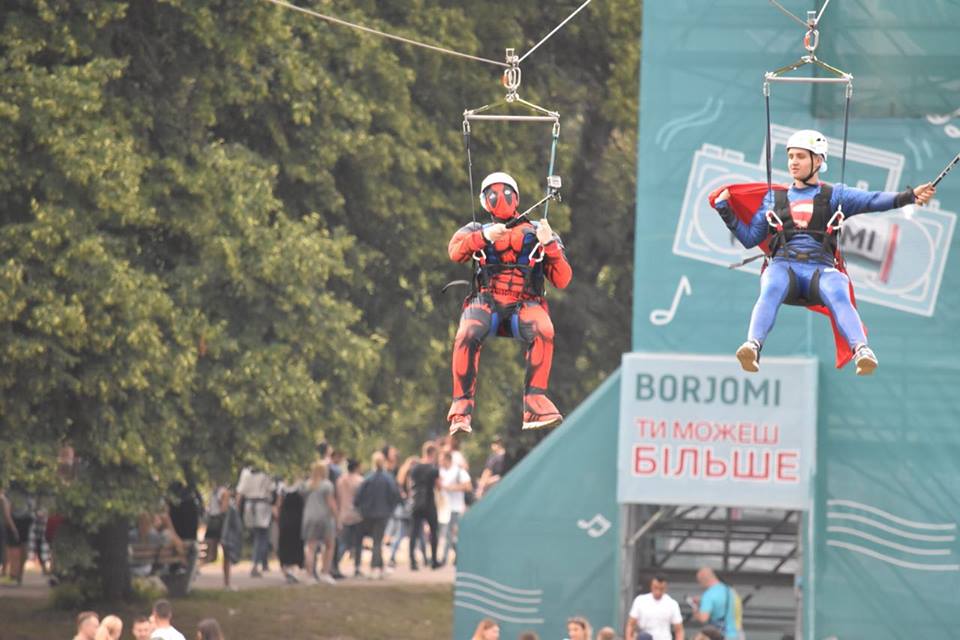 Summer is a hot time for festivals, entertainment and recreation, and taking a speedy refreshing flight is just the right thing to take from time to time. This year, we complemented our portfolio with two mobile summer zip lines. Get inspired and order construction of zip lines by SkyPark to make your celebration really unforgettable.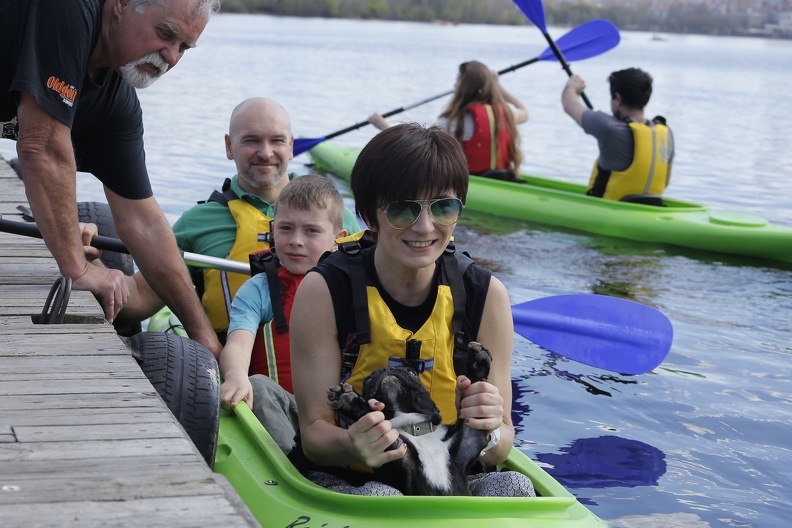 SkyPark Kayak School has moved from Yednist watersports base to a cozy beach nearby, and there's one more piece of good news: on 21 July, we celebrate the long-awaited opening of a kayak rental center at Veselka (Rainbow) beach. We welcome all kayaking fans at out rental centers!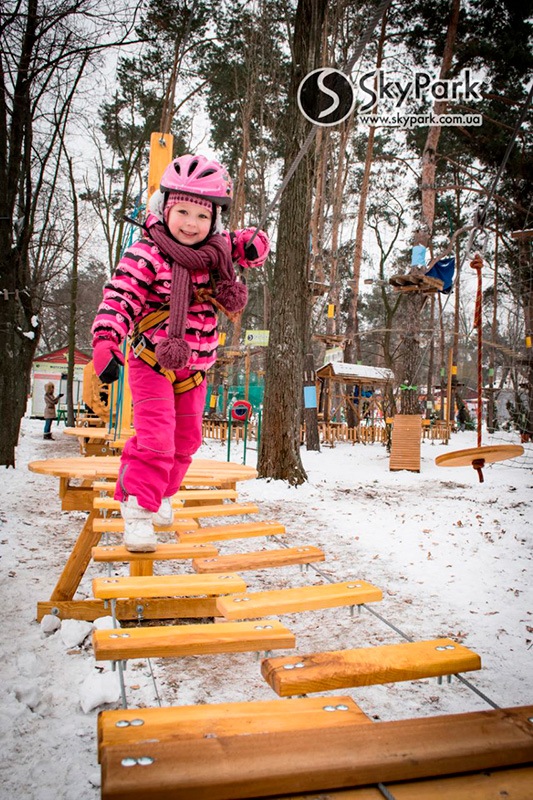 Not to make visitors of SkyPark adventure parks be bored, we are constantly updating our rides and building new rope trails. The Adventure Park in Victory Park at Darnytsia meets its guests with the first addition to the trails this year! Meet a new kid's trail.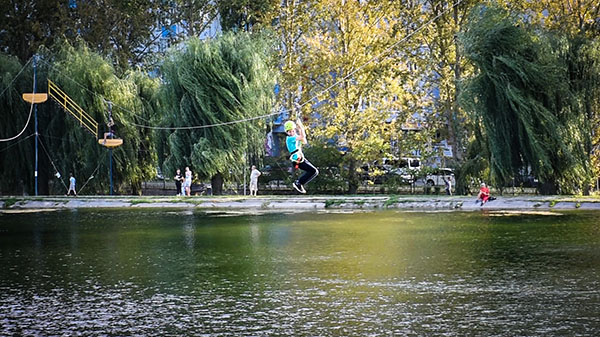 What is the most popular with visitors in adventure parks by SkyPark? Of course, it is an unforgettable feeling of flight on zip lines at the end of all rope trails with obstacles. Meet the new impressive Zip line by SkyPark over the lake in the Park Peremohy in Brovary.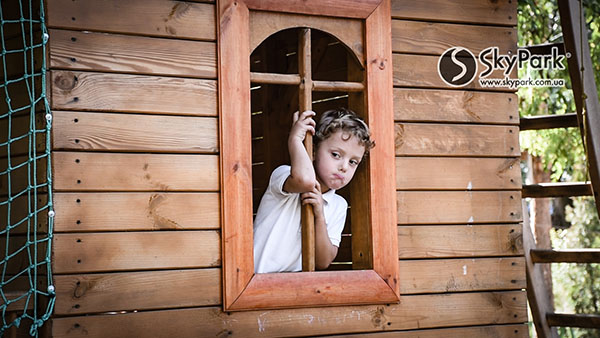 The Adventure Park by the SkyPark company at Victory Park is the most 'adult' of all existing Adventure Parks of our company. But until now only this park has been lack of entertainment for the little ones. We are glad to inform you that we have undid this injustice.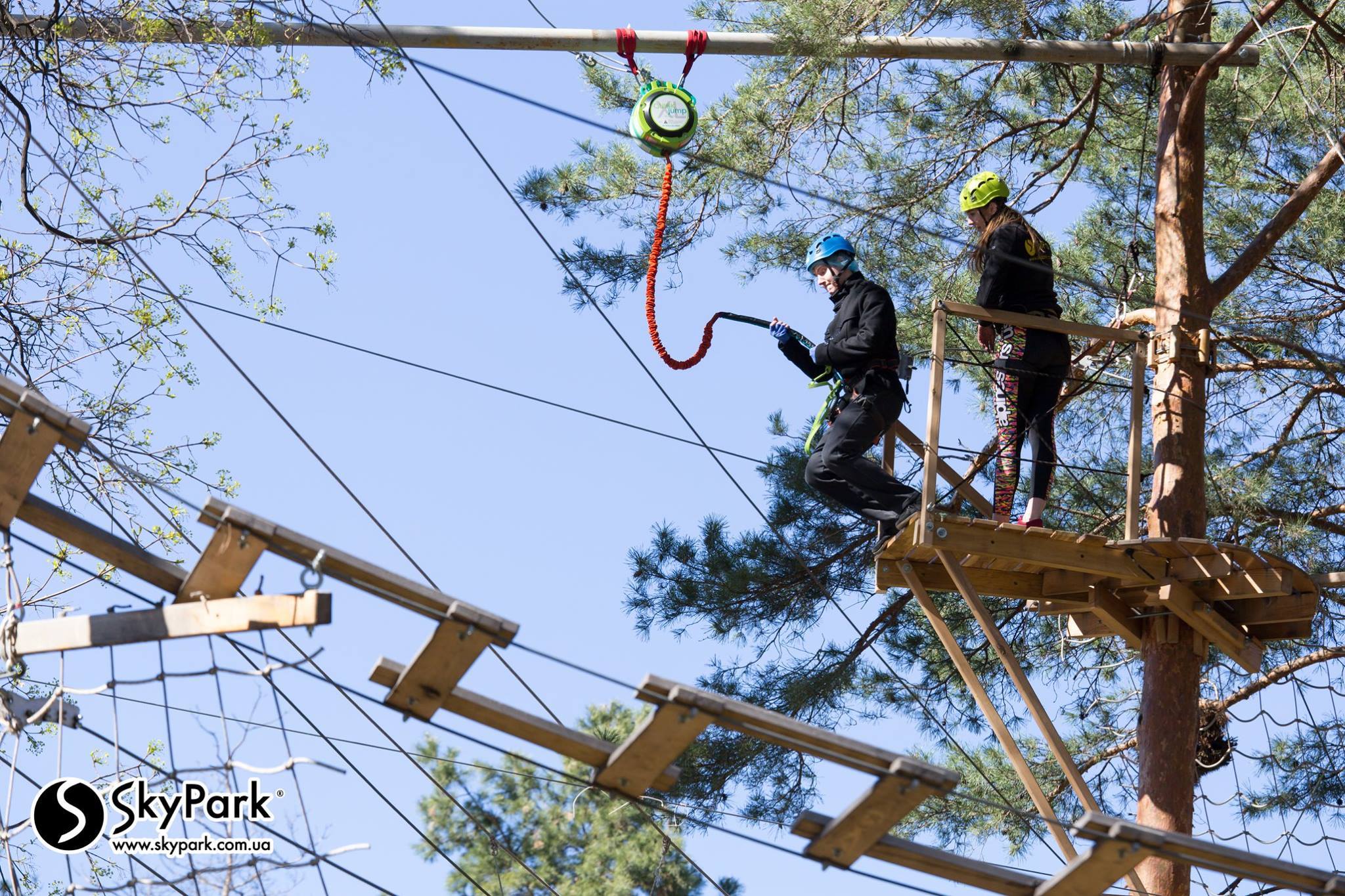 In a Adventure Park by SkyPark at Vynohradar we've opened a new fifth trail for adults. Having overcome all 8 obstacles of this route, visitors are able to test the extraordinarily impressive finish stage – QuickJump (device of free falling).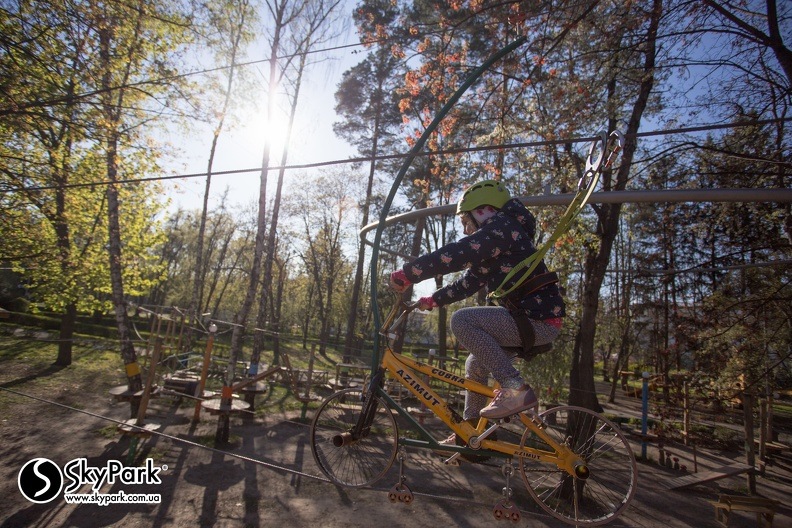 Two more new trails completed the treasury of entertainment in the Adventure Park by the SkyPark  company at Pushkin Park. One of them is a kids trail, so that the kids will have a wider choice; and the second one, so high (the height of obstacles varies from 10 to 15 meters), is an adult trail!
To construct the longest stationary Zip line in Ukraine and to reach the highest speed of flight on it! Specialists of SkyPark have proved once again that our zip lines are worthy to be entered into the National Register of Records of Ukraine.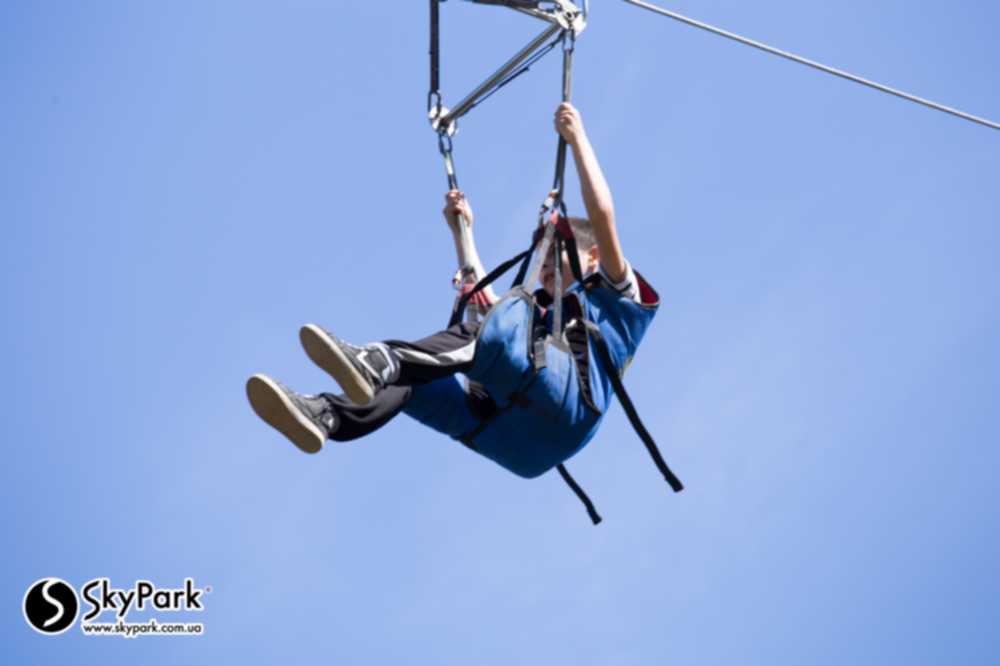 Now flying on a Zip line from the SkyPark company will be real for residents of Kharkiv region and all the tourists and adventure-seekers, who want to pay a visit the Park Repina in Chuhuiv. We have opened a new 720-meter Zip line by SkyPark over the scenic Siverskyi Donets River!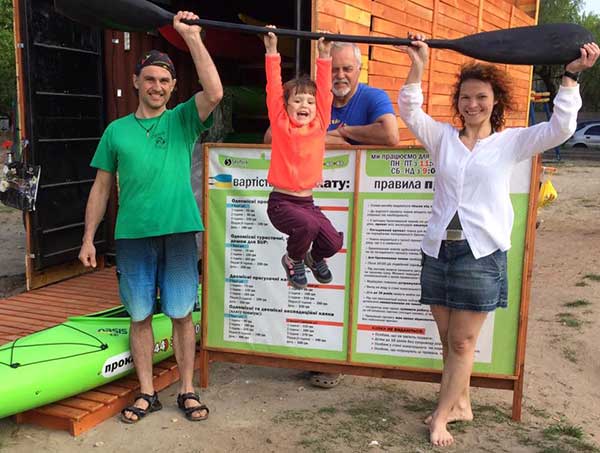 29 April 2017 we opened a new kayak and bicycle rental center at Mykilsko-Slobidska str. 7, Rainbow (Raduga) beach. We invite all lovers of rowing or walking to visit us!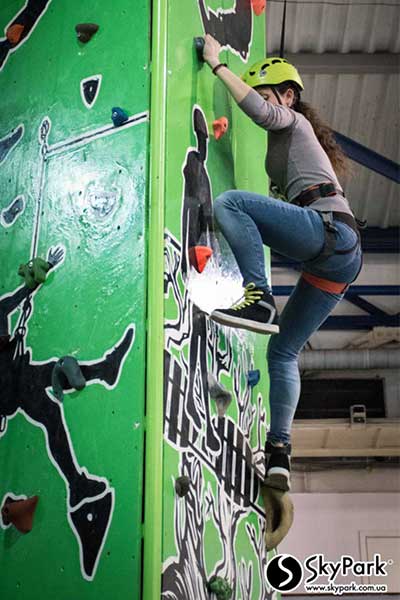 We have installed a climbing wall in yet another adventure park by the SkyPark company. New triangular mobile climbing wall 8m high has been moved right from the exhibition 'Active Expo Fest' to the Adventure Park by the SkyPark company in Brovary.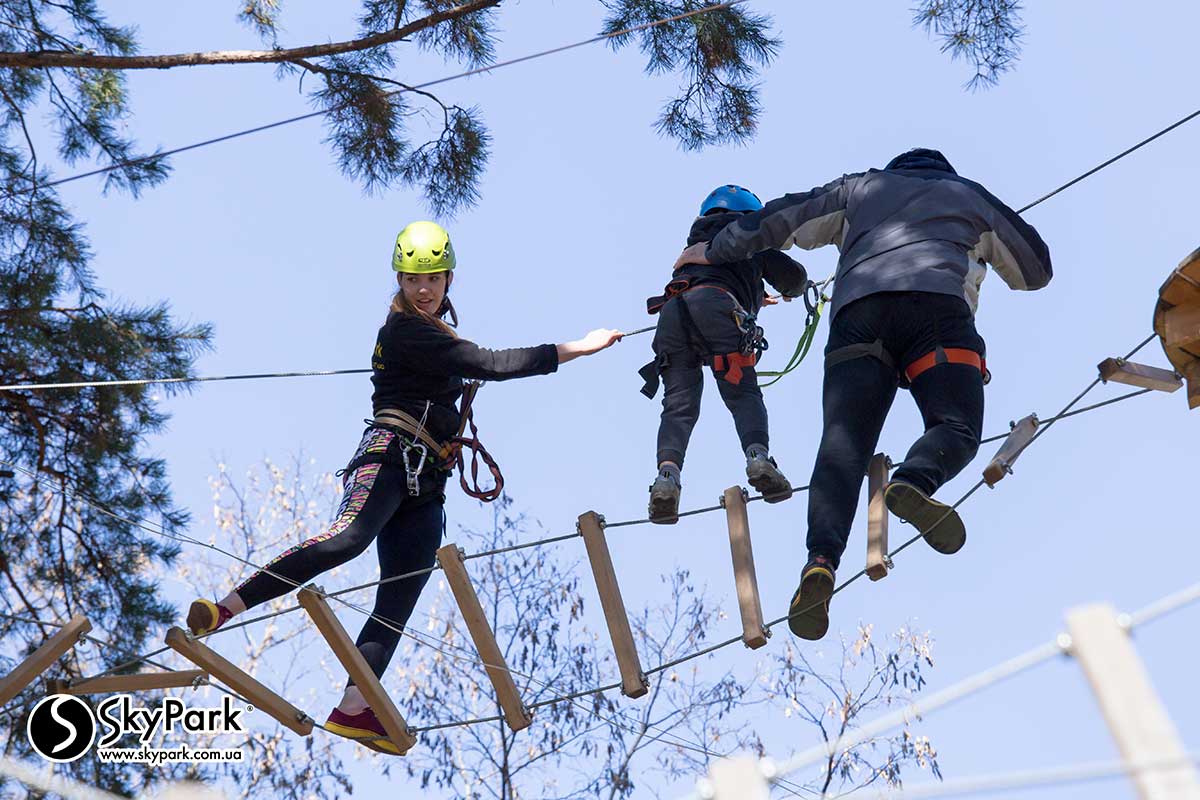 Even higher, even more fun and even more adrenaline – so you can describe the new trail in the Adventure Park by SkyPark company at Victory Park. Our visitors had been waiting for opening of the fifth trail in the Adventure Park at 'Darnytsia' since last year. And, finally, the first brave souls experienced a new entertainment in April of this year!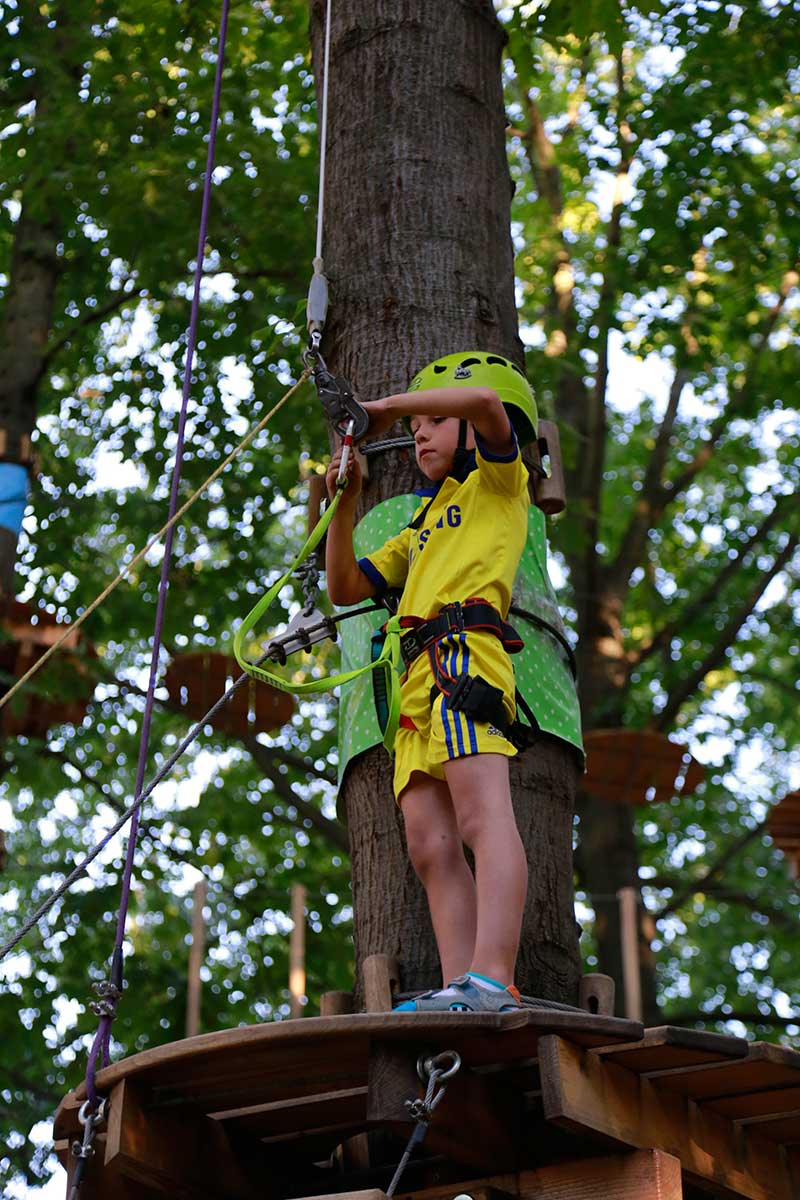 New warm season of 2017 in the Adventure Park by SkyPark company at VDNKh is opened with two new trails! Now visitors of the Adventure Park at  VDNKh will be able to replenish their Treasury of impressions with the sixth Zip line trail and the 'Junior' trail.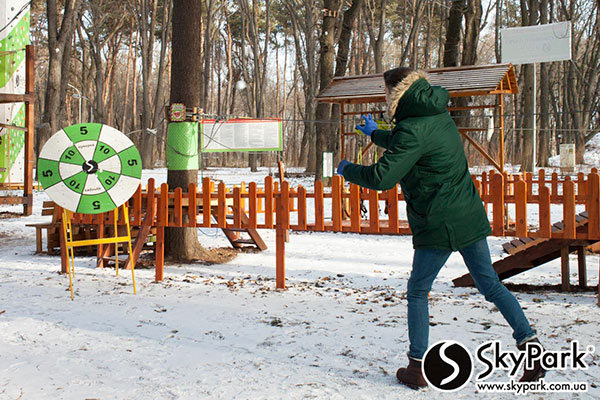 Visit the adventure parks by SkyPark in winter, show your legerity and ingenuity and win up to 30% discount for a visit to the adventure trail! From  December 31, 2016 to March 15, 2017 we invite all the visitors of the adventure parks by SkyPark to play a game with us and win discounts.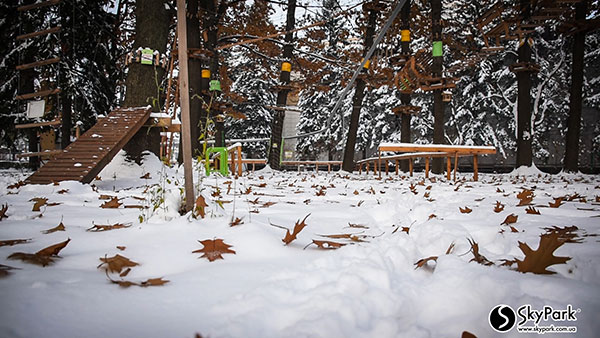 Winter is a time of New Year and Christmas holidays, a mysterious time when dreams come true, miracles happen everywhere, and fantasy becomes a reality. Feel like a hero of a New Year's story, sinking into incredible adventures, and overcoming the most challenging obstacles.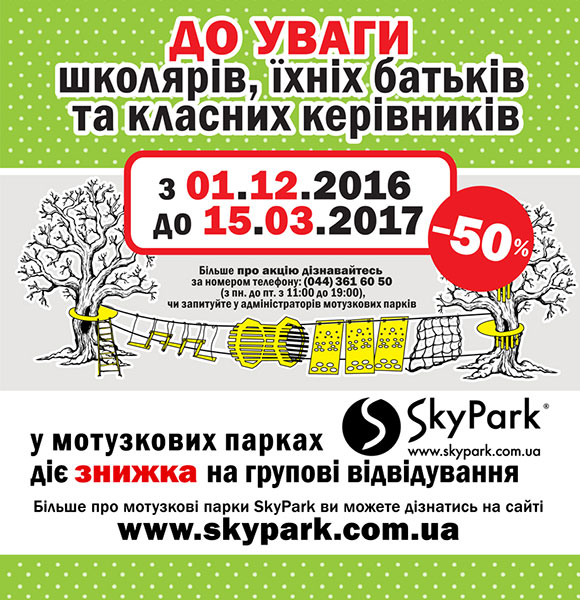 Nothing brings people together like overcoming obstacles. Therefore, passing routes in adventure parks of SkyPark company among friends is not only an opportunity to test yourself, but a team-building way to become more friendly, supporting and helping each other.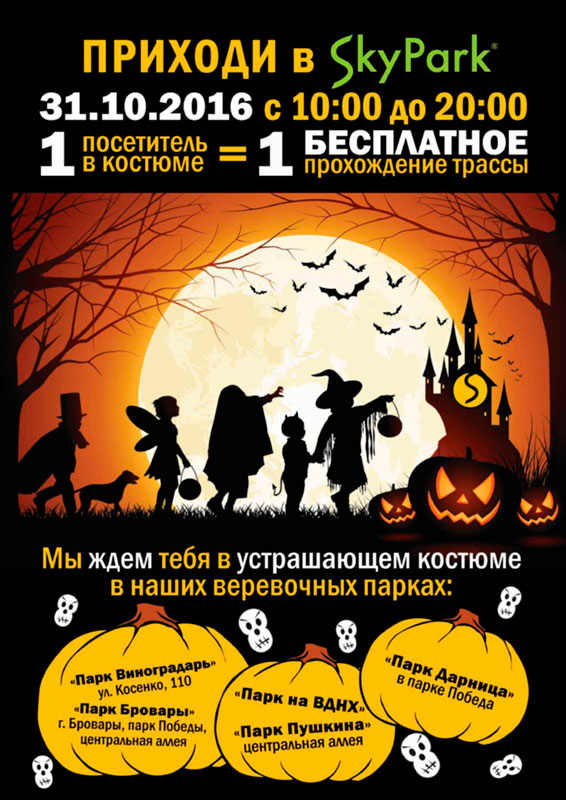 Do you like the holidays and costume parties? For Halloween on 31 October, 2016 the adventure parks by SkyPark have prepared a surprise for their visitors. We present a free adventure trail visit in exchange for the imagination and ingenuity of our visitors.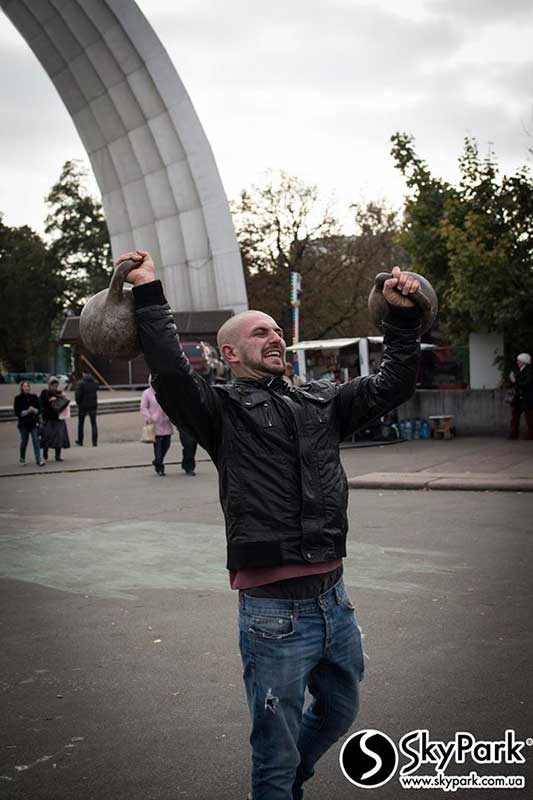 To the Ukrainian Cossacks Day and the Defender of Ukraine Day, the SkyPark company has prepared a fun event at the Zip-Line over the Dnieper in Kyiv near the Friendship of Nations Arch. 14 Oct 2016 most courageous men of Ukraine flew on Zip-line for free.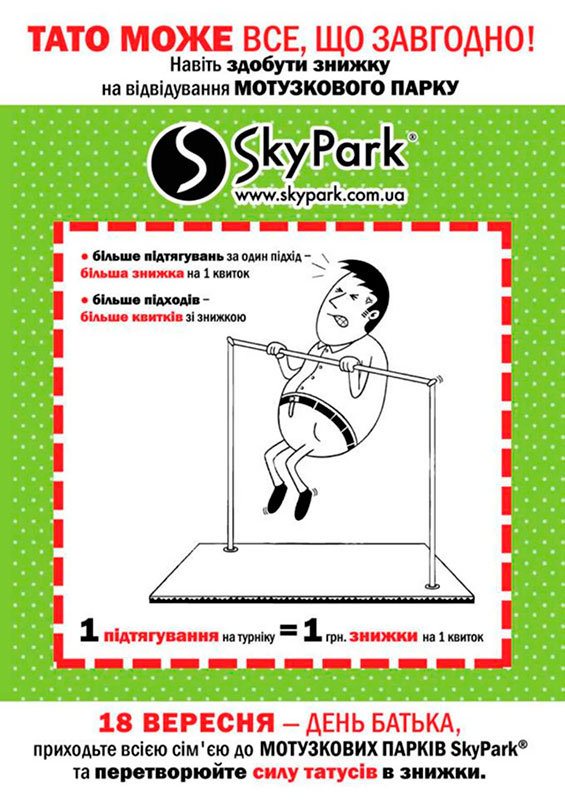 Dad can do anything, even to get a discount on admission to the adventure Park by SkyPark. On the 18th of September, 2016 young visitors' dads set an example to their kids and fought for discounts, pulling on the bar. What was it like?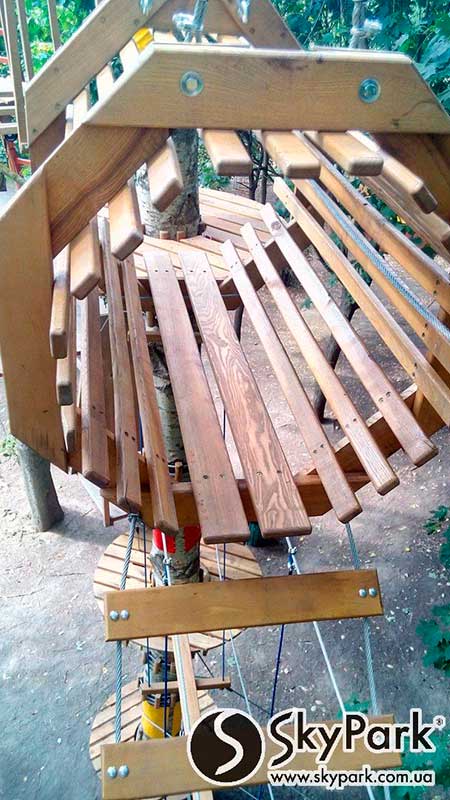 Now in the Adventure Park by SkyPark in Brovary adult visitors will also find fun. We invite all lovers of adrenaline taller than 125 cm and weighing up to 120 kg to visit the Adventure Park by SkyPark in Brovary and conquer two adventure trails.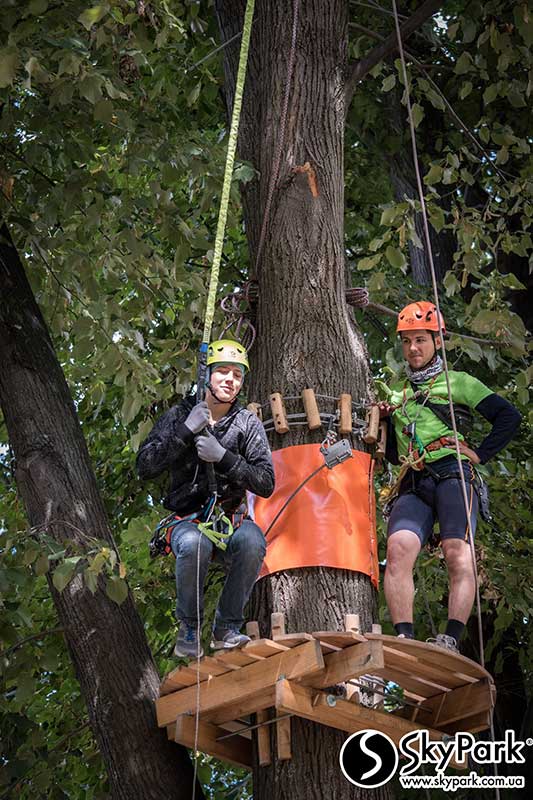 "Higher, harder and more engrossing" – these words can describe  a new trail in the Adventure Park by SkyPark at Exhibition Centre. Here you have to overcome as much as 50 meters of extreme obstacles in the trees and get a bolt of adrenaline on the final descent.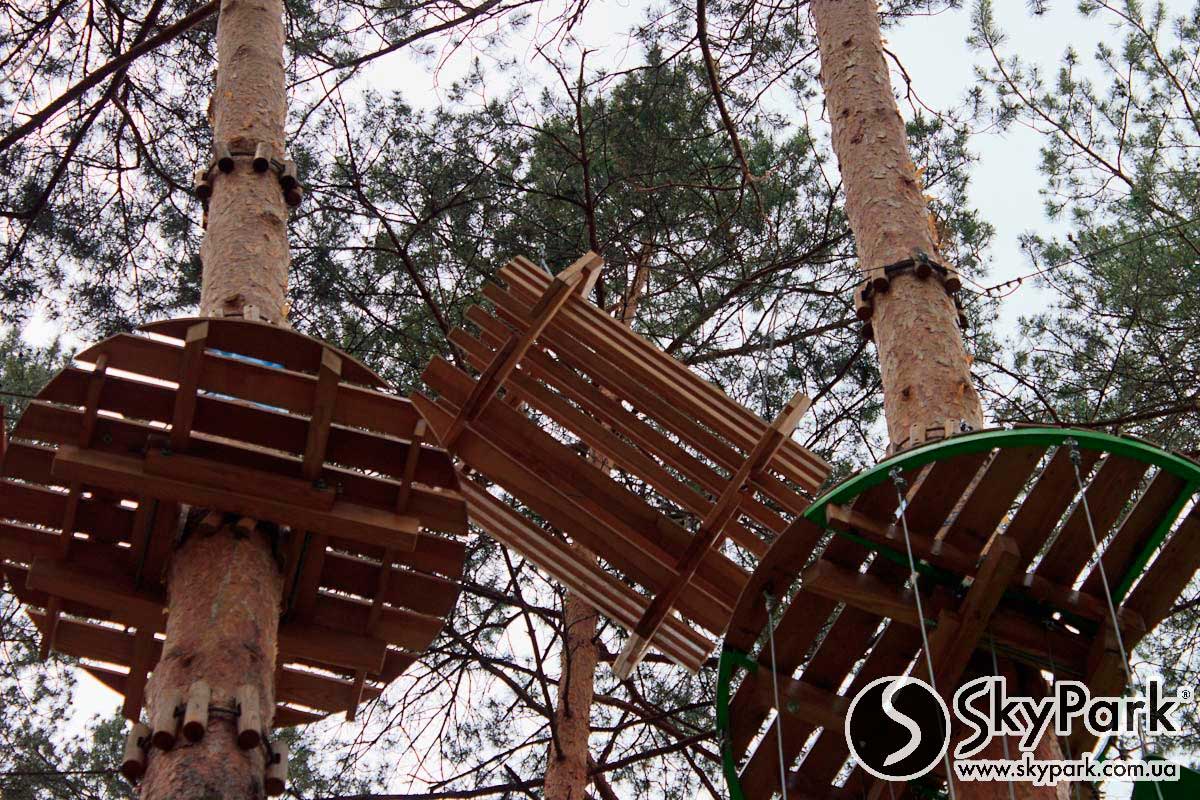 In the Adventure Park by SkyPark at Vynogradar a dizzying fourth trail has been opened. Spiral staircase, 15 meters high and a spiral descent at the crossing SkyLine. Come to the Adventure Park by SkyPark at Vynogradar (Kyiv) for an unforgettable experience!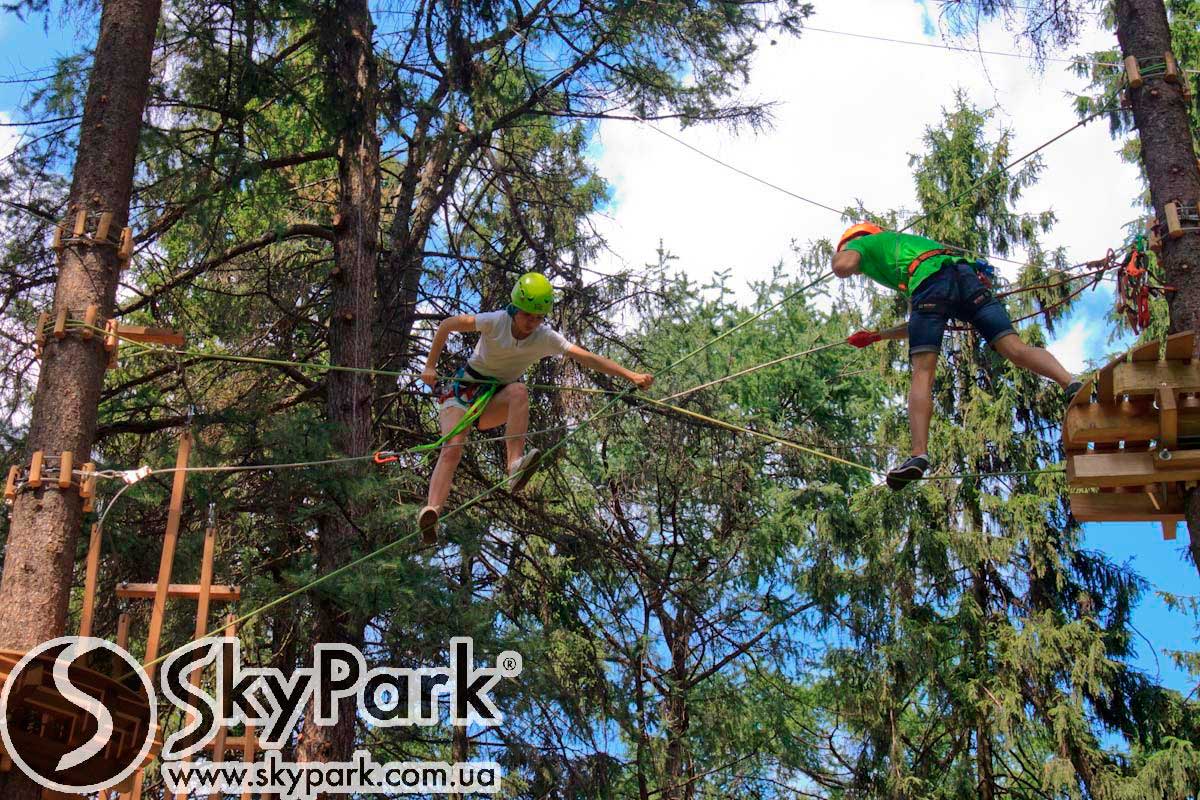 Looking for a really challenging trail? We invite you to the Adventure Park by the SkyPark company at Pushkin Park (Kyiv). Test your capabilities on a new adventure Trail № 2, and having overcome all obstacles, enjoy extreme rope jumping.