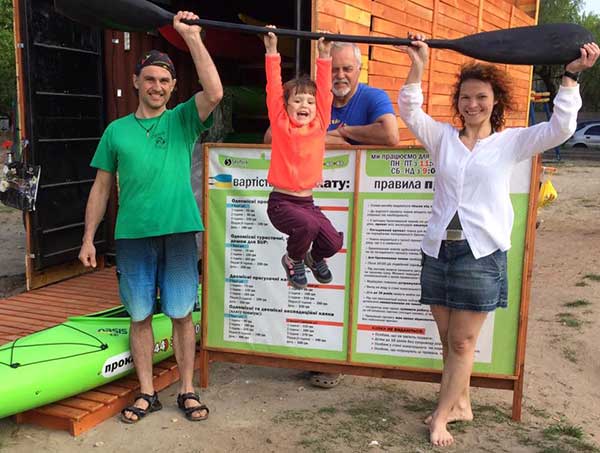 29 April 2017 we opened a new kayak and bicycle rental center at Mykilsko-Slobidska str. 7, Rainbow (Raduga) beach. We invite all lovers of rowing or walking to visit us!
So two kayak rental centers has begun their work by this spring:
The 'Skypark Rowing School' the territory of sports base 'Yednist' at Pryrichna St, 2 (the nearest metro station is 'Minska')
Kayak and bicycle rental centers on the 'Rainbow' beach is at Mykilsko-Slobidska Str, 7 (the nearest metro station is 'Livoberezhna')
Working hours of the kayak rental centers: weekdays from 12:00 to 20:00, on weekends and holidays from 9:00 to 20:00. Other kayak rental centers will resume their work after 'hibernation' in the nearest future. You can clarify information or  arrange kayak rental on weekdays to 12:00 by phone numbers: (073) 361 60 50, (096) 361 60 50, (044) 361 60 50).
We define conditions for those who want to rent a bike:
One hour rental of bicycle costs 70 UAH, daily rental on weekdays is 200 UAH per day, daily rental on weekends and holidays – 250 UAH.
Bikes are secured the full collateral value of the bike: 6500 UAH, or you can leave us the document for storage and 300 UAH of collateral value in case of bike damage.
You can find the price list of kayak rental on our website on the Kayaks page. Please note that kayaks are let out only upon the security.