Adventure parks by SkyPark
It is a safe and interesting way to spend time, to improve your skills, to learn the basics of working with rope and climbing gear, to feel like a real extremals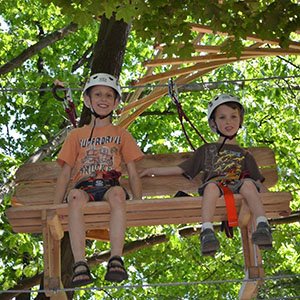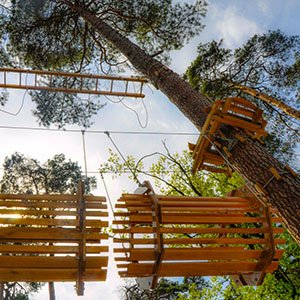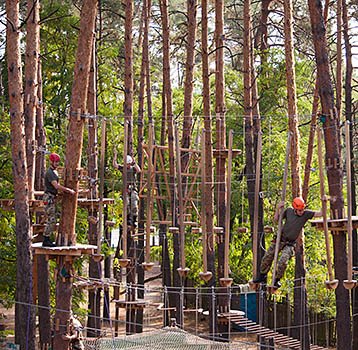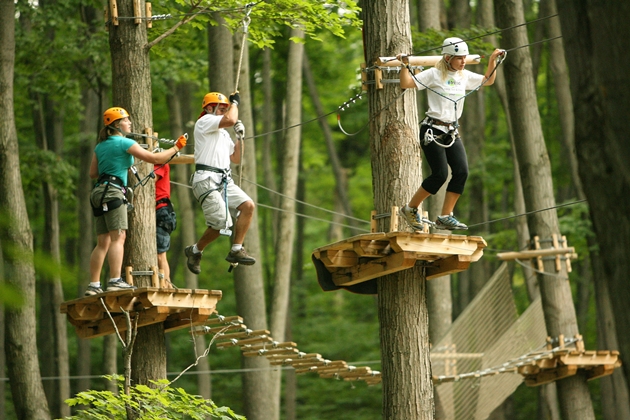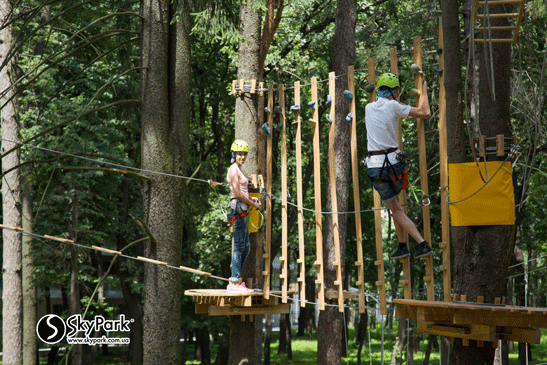 Zip-line over the Dnieper
ZIP LINE  OVER  THE  DNIEPER  BY  SKYPARK  COMPANY  ISN`T  WORKING TEMPORARILY
You can find all further news about the zip-line on our pages in social networks
Add a flight the zip-line to the treasury of your impressions!
Start

Friendship of Nations Arch, an observation deck

532 m length

You will overcome track length of 532m in 30-60 seconds

Finish

Trukhaniv Island, main beach (near the Pedestrian bridge)
There is something to tell your friends!
Zip-line over the Dnieper
European area, Volodymyrs'kyi descent, 2
An observation deck near the Friendship of Nations Arch
Work time:
Mon - Sun
10.00 am - 8.00 pm
Троллей через Днепр
Европейская площадь, Владимирский спуск, 2
Смотровая площадка возле
Арки Дружбы народов
Режим работы:
Пн - Вс
10:00 - 20:00
If you love water activities, you have a chance to have a good time on the kayak. The SkyPark company offers to make a kayak rides for a couple of hours or for a day. Also a "Skypark Kayak School" was opened this season. Join us!
Single person and "tandems" pleasure kayaks

Pleasure kayaks are small and have a very good stability on water. These kayaks are difficult to be turned over. Pleasure kayaks are great for beginners.

Single person tourist and forwarding kayaks

Travel kayaks are designed for longer routes. These kayaks overcome the distance much easier than pleasure ones. They are also well suited as for pleasure and hiking.

Single person, tandems and expedition kayaks (premium).

Such kayaks are designed for advanced users. These models are more narrow and long, they have 4 trunks. They are also equipped with a steering system. The seats in these kayaks usually have a lot of different positions to adjust to each paddler.

We provide kayaks of Rainbow kayaks company (Italy)
All kayaks are new, we have a large amount of them, so they  are always available for use.
Kyiv, Pryrichna St, 2, the territory of sports base "Yednist"
Kyiv, Pryrichna St, 37, the beach.
Work time: Tue-Fri from 11.00 am to 8.00 pm;
Sat-Sun from 9.00 am to 8.00 pm.
The SkyPark company has being designing, manufacturing items of obstacles and building adventure parks, zip lines of any level of complexity for 10 years. In Ukraine we have built 17 high adventure parks and 34 zip lines.
Construction of adventure parks

Do you want to order the building of a adventure park? The SkyPark company offers a full range of works in construction of adventure parks: design (create a project), production of components, assembly of structures. Our long term experience in the construction of adventure parks is supported by developing our own network of adventure parks. SkyPark doesn't only build adventures parks. We are continually improving our technology, developing new and interesting obstacles and optimize the work of adventure parks.

Construction of Zip-lines

Surprise the guests of your hotel, recreation center or tourist complex with an opportunity to experience the incredible ease of flight and enjoy the paintings of the surrounding nature, with the breeze going down by the zip line. The SkyPark company has more than ten years of experience in the construction of zip lines. During this time we have built about fifty zip-lines in different parts of Ukraine. Convenience of cooperation with the SkyPark company is that we provide a full range of services for the construction of zip line: design, production constructions of start and finish, mount zip line. We also provide further maintenance of zip lines to our customers.
Installation of adventure parks, zip lines, rock-climbing walls for events

If you organize festivals, birthdays, corporate events, exhibitions, sports events, etc. The SkyPark company offers a unique opportunity to make your holiday unforgettable! You can order the installation of the mobile high adventure parks, the climbing wall or construction of a zip line specifically for your event. The SkyPark company also will provide you professional instructors who will ensure in your visitors' safety during the event.

Construction of SkyLine

Do you like to feel the lightness of flight, speed and adrenaline, going by the zip line? Now imagine the same descent, but even more breathtaking with spectacular curves and breathtaking dips. Or do you think that it is more important to relax and to enjoy the surrounding scenery during the descent by the zip line? Then why not to slow down the speed of the flight to have time for making spectacular photos of the surrounding nature. And what if to combine all of these additional benefits into one attraction? The SkyPark company offers the building of unique SkyLine crossings. We know how to bring to life many people's dream about the more perfect zip lines.