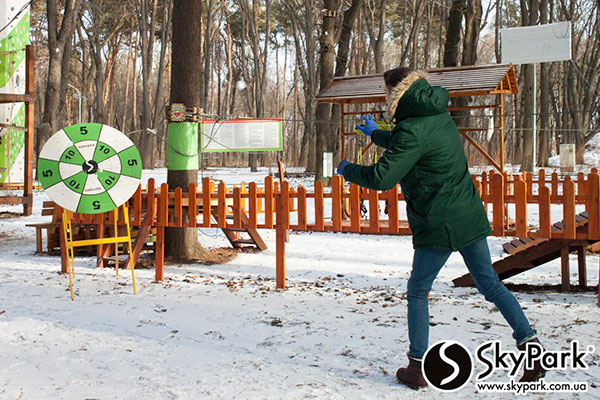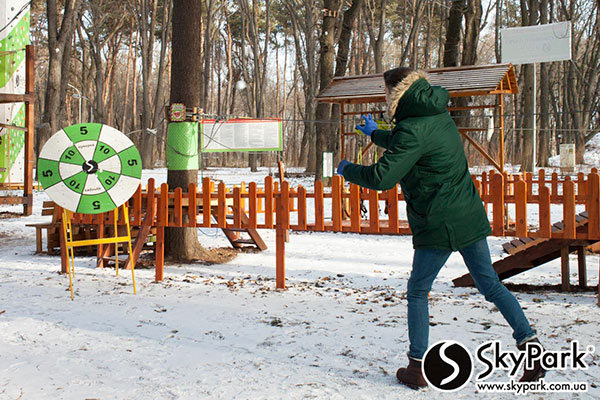 Visit the adventure parks by SkyPark in winter, show your legerity and ingenuity and win up to 30% discount for a visit to the adventure trail! From December 31, 2016 to March 15, 2017 we invite all the visitors of the adventure parks by SkyPark to play a game with us and win discounts.
For the bravest visitors of adventure parks, who want to have fun in the height in winter: the company SkyPark has prepared two fun games at choice, in which you can win a discount on your visit to the adventure trails. You can test your memory by playing the "Pyramid" with us or to show your accuracy of aim in the game "Snowballs". To participate in the game you need to come in any adventure park by SkyPark and purchase a ticket for a visit to the adventure trail. The resulting discount is valid only for the purchased ticket (bought before the game).
The rules of the game "Pyramid":

Inventory: the pyramid of the seven colored rings and a card with various options for assembling the pyramid.
The visitor randomly chooses one of the cards where the color order is described . You should build a pyramid according this description.
We give 20 seconds to memorize the order of colors. After that the card is withdrawn from the visitor.
From memory the visitor assembles the pyramid in the order that was described on the selected card.
If the pyramid is assembled correctly, the instructor gives a visitor 15 UAH from the cost of the purchased ticket.

The rules of the game "Snowballs":

Inventory: a target about 1 m in diameter, snow, of which the visitor makes snowballs.
The visitor has three attempts to hit a snowball at a target from a distance of 6 meters, and then chooses which of the attempts will be counted as a result.
In the game "Snowballs" the visitor can get discounts of 5, 10 or 15 UAH for a visit to the adventure trail, or a piece of candy.
Offer is not valid for group visits of adventure parks by SkyPark.
The administration of the company SkyPark relain the right to change the promotional conditions.